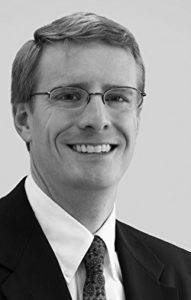 Rev. Dr. David VanDrunen
Dr. VanDrunen holds the Robert B. Strimple chair and is Professor of Systematic Theology and Christian Ethics at Westminster Seminary, California.   He is an ordained minister of the Orthodox Presbyterian Church and formerly served as a pastor of Grace Orthodox Presbyterian Church in Hanover Park, IL.   He currently serves on the Orthodox Presbyterian Church's Committee on Christian Education and Subcommittee on Ministerial Training. He does much of his current research and writing at the intersection of systematic theology, biblical studies, ethics and legal and political theory. He was the recipient of the Acton Institute's Novak Award in 2004 and was a visiting fellow at the Center for the Study of Law and Religion at Emory University in the spring of 2009. He is a Henry Luce III Fellow in Theology for 2016-2017.
Dr. VanDrunen is the author or editor of ten books, most recently God's Glory Alone: The Majestic Heart of Christian Faith and Life. His scholarly articles have appeared in many journals, including American Catholic Philosophical Quarterly, International Journal of Systematic Theology, Journal of Church and State, Journal of Law and Religion, Journal of Markets and Morality, and Journal of the Society of Christian Ethics.
Dr. VanDrunen and his wife, Katherine, a WSC alumna, have one son and reside in Escondido, CA.
EDUCATION
B.A., Calvin College;
M.Div., Westminster Seminary California;
Th.M., Trinity Evangelical Divinity School;
J.D., Northwestern University School of Law;
Ph.D., Loyola University Chicago
Books authored or edited by Dr. VanDrunen
God's Glory Alone – The Majestic Heart of Christian Faith and Life
Divine Covenants and Moral Order: A Biblical Theology of Natural Law
Bioethics and the Christian Life: A Guide to Making Difficult Decisions
Law and the Bible: Justice, Mercy and Legal Institutions
The Law is not of Faith: Essays on Works and Grace in the Mosaic Covenant
The Pattern of Sound Doctrine
Natural Law and the Two Kingdoms: A Study in the Development of Reformed Social Thought
Living in God's Two Kingdoms
A Biblical Case for Natural Law
Law & Custom